Interested in buying Au Vodka for your liquor store? We have all you need here at our Au vodka wholesale. Whether you are looking for the green watermelon or the blue raspberry, as Au vodka supplier we offer you a wide choice. Fill up your liquor store with all the best flavors of Au vodka now.
In our Sales Portal you can view our entire stock at all times. So our stock is visible to you day and night, so are the real-time prices. Because we are 100% independent, we can always act quickly on all your requests. We are an Au vodka distributor supplying business customers throughout Europe and beyond.
Au vodka: a relatively recent story
As an Au vodka wholesale, we are always curious about the story behind our liquor brands.
Au vodka (read more at Au Vodka) doesn't have much history yet. In fact, the company was founded only recently in the heart of Wales, in 2015. Au Vodka was created by Jackson Quinn and Charlie Morgan who saw a gap in the market when their friends kept getting the same "boring" brands of vodka for their 18th birthdays. At first, they only produced a few bottles to sell to local bars. 
It soon proved to be a bigger success than expected, with its signature shiny gold bottle and vodka colored to match a range of flavors, Au Vodka quickly became the must-have drink for many influencers. DJ and producer Charlie Sloth in particular appeared to have a great appreciation for the vodka. He decided to invest in the brand and become a business partner in 2019.
Currently, it is a sought-after vodka by many celebrities. In fact, it is currently one of the most popular vodkas in the UK. Au vodka is ready to discover more of the world and as a supplier of Au vodka, we are happy to contribute to that!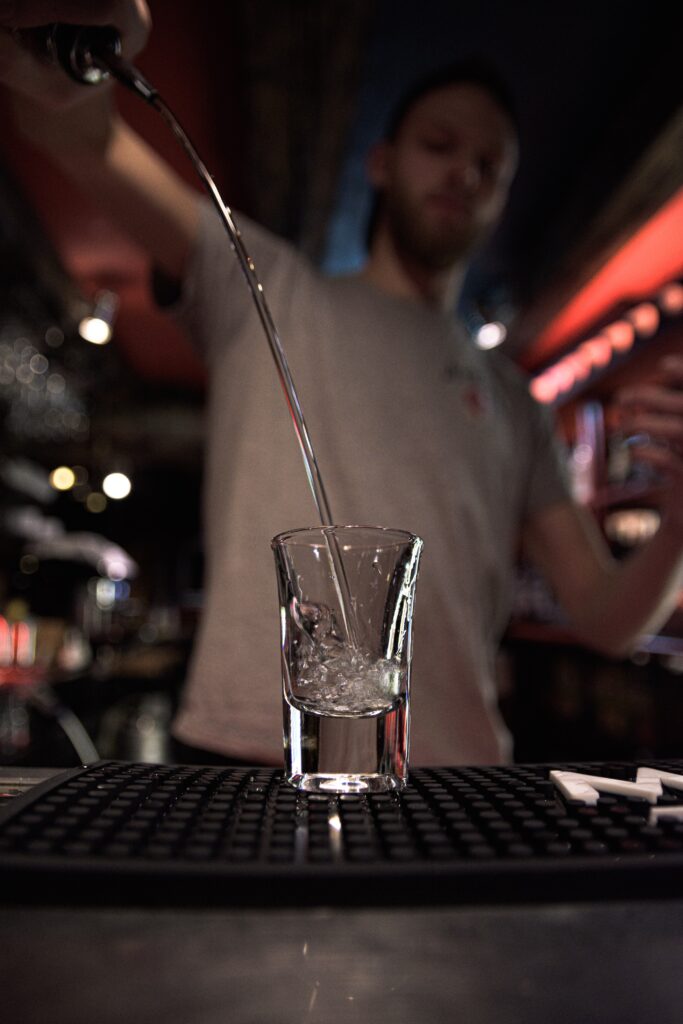 Au Vodka wholesale: a unique way of producing
Before we, as an Au vodka distributor, have these vodkas in our warehouse, an extensive production process precedes them.
The vodka is distilled with luxury ingredients, creating a multi-faceted character. Each batch of Au Vodka begins with the finest grain grown in the heart of the English countryside. This is followed by blending with pristine spring water, then filtered with gold. Real gold? Yes, real gold. To ensure the highest possible quality, the vodka is distilled five times before being filtered through gold. In a filter chamber, gold is used to remove carbon-based impurities. The method used by Au Vodka is one of the few gold filtration processes in the world.
Next, the liquid has to be bottled. This is metalized by hand in Italy. Each bottle of Au Vodka is finished with a unique metallization and uses the finest pewter labels that comes from deep in the European hills. So not only the distillation itself, but also the process of bottling is very unique.
The taste of Au vodka can be described as smooth and velvety. Despite Au vodka being fairly new on the market, they have already won many awards. We are proud to be able to add Au vodka to our assortment as a wholesaler.
Au vodka supplier with a wide, ever-growing assortment
Au vodka calls itself the fastest growing vodka brand in the UK. Of course, as an Au vodka supplier, we want to grow with the range they offer. And admit it? Surely everyone wants to add this ultra-premium vodka to their product range? You can recognize this brand's vodkas by the distinctive gold bottle. Flavors you can find among others at our Au vodka wholesale?
Au vodka green watermelon
Au vodka blue raspberry
Au vodka fruit punch
Au vodka red pineapple
That's not all. In addition to all these fruity flavors, we offer many more varieties of Au vodka. Can't you choose and would you prefer to add everything to your shelves? You can already order per case from us. Create your own mixed order in our Sales Portal and discover all the flavors!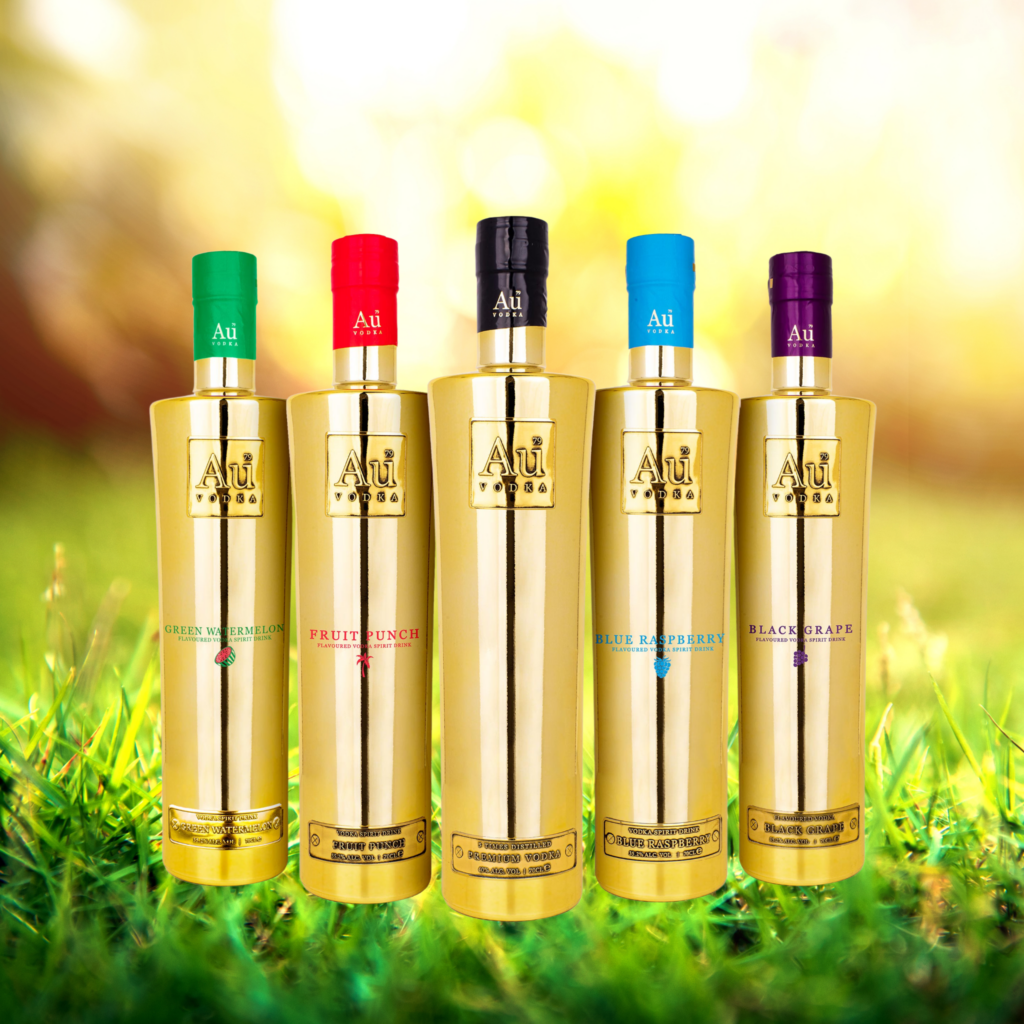 Let Moving Spirits be your Au Vodka distributor, always (online) convenience!
We want to make the purchasing process as easy as possible for you. So step away from spitting through long Excel Lists and order easily in our Sales Portal these days. You get 24/7 insight into the complete stock of us as an Au vodka distributor here. It also displays the ETA (Estimated Time of Arrival) if the goods are not yet in stock.
The convenience you experience with large parties like Amazon? We offer the same with our platform. You can order whenever and wherever you want. Within a few clicks you have already put together a complete order. And of course we understand that prices are also important to you, which is why we are always competitively priced. An additional advantage? As a portal user you regularly get unique deals, so order Au vodka for wholesale prices now.
Before you can get started in our Sales Portal, you have to create an account. After gaining access, you will have access to our entire inventory including all real-time prices forever. How to create an account? Only 4 steps are required:
1. Fill out the 'become a customer' form.
2. Your request will be checked by us.
3. If approved, you will be granted access to our Sales Portal and login details will be sent to you by email.
4. You can easily order when it suits you and you always have insight into current stocks and prices.
Moving Spirits, the wholesaler to buy Au Vodka from
If you would like to order Au vodka for your liquor store, Moving Spirits is the online Au vodka wholesale for you! However, that's not all we have to offer. With over 50 brands of vodka always in stock, there's always a suitable brand for you. Moving Spirits is also the right place for you when you are searching for Beluga, Crystal Head, Emperor or any other vodka brand.
Even besides vodka, we have a wide selection of other types of spirits. Discover all the brands of whiskey, gin and rum we offer in our Sales Portal. Are you far from finished reading and curious to learn more about us? Then read more about our vodka wholesale. We hope to be able to help you put together an order soon!
Do not hesitate any longer and create an account at our Au vodka wholesale now.