A Lagavulin wholesale where you can view the full inventory 24/7, that is a promise of Moving Spirits. So, are you looking for Lagavulin whiskey for your liquor store? Stop searching! With the wide selection we have to offer as a Lagavulin supplier, you'll have plenty of choice. Whether you go for the Lagavulin Double Matured Distillers Edition or prefer the smoky but powerful 12 Y.O., you can always check stock levels in our Sales Portal.
Thanks to our Sales Portal, our stock is always available to you and you can put together an order whenever and wherever you want. We are also 100% independent, which makes us very flexible. Moving Spirits is a distributor of Lagavulin and supplies business customers within and even outside Europe.
History of Lagavulin: years of illegal distilling or honesty after all?
As a Lagavulin wholesale, we are always curious about the story behind our liquor brands. Looking at the history of the company, we go back to 1816.
The Lagavulin distillery (read more at Wikipedia) came about because John Johnston and Archibald Campbell Brooks built two distilleries on the property, one of which became Lagavulin. However, it appears that illegal distilling was already taking place on the property in at least 10 illegal distilleries in 1742.
But not all went smoothly in Lagavulin. Lagavulin's popularity grew in 1862 when blender John Logan Mackie bought the distillery. Several legal battles with the adjacent distillery, Laphroaig, followed in the 19th century as Lagavulin's distiller, Peter Mackie , leased the Laphroaig distillery. It is said that he tried to copy Laphroaig's style. The distillery also suffered many things in the following years, including having to close due to World War II and a fire in 1951 that destroyed the entire distillery.
So, a history where a lot has happened. As a Lagavulin supplier, we are glad that they managed to fight through this and that we can still enjoy these delicious whiskies. The brand is now owned by Diageo, which took ownership in 1997.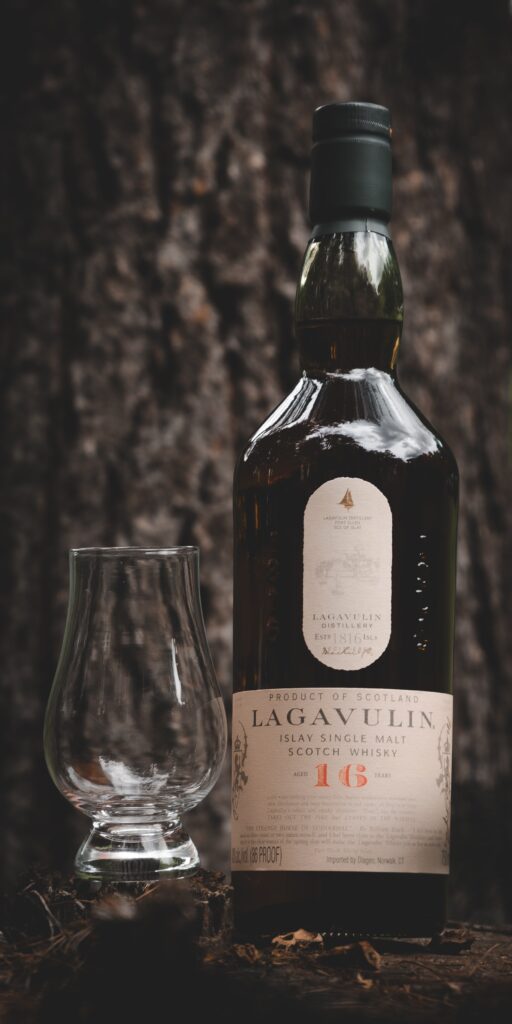 Lagavulin wholesale: taste the sea's character and iodine
Before you can purchase this whiskey from us as a Lagavulin supplier, an extensive production process precedes it. In fact, of the Islay whiskies, it is the one with the slowest distillation. Located on the Isle of Islay, Lagavulin lies between Ardbeg and Laphroaig the peat and iodine of the sea give its famous 16-year-old single malt a sharp smoky flavor with notes of sea salt, rich fruit and smoked tea.
The water used helps impart its distinctive flavor. The distillery's water source, Lochan Sholum, is 200 meters above sea level and the water flows down through the hillside peat. Lagavulin uses a double distillation method. The wash stills used are 95% full which reduces contact between the alcohol vapors and the copper sides of the still. The stills at Lagavulin are slightly larger than the wash stills and have a unique pear shape.
In 1974, the floor maltings at Lagavulin closed and since then the malted barley used by the distillery has been obtained from local Port Ellen maltings. The malt is dried by hot air and then through island peat for a period of time. Lagavulin uses ex -bourbon casks and sherry casks to age in. The warehouses are all exposed to the sea, absorbing the typical sea, and iodine character found in Lagavulin Single Malt.
Lagavulin distributor with a wide assortment
Lagavulin regularly produces special whiskies, including a 12-year-old and a 21-year-old, a highly popular single malt typical of southern Islay. It is a true gift for all occasions for lovers of smoky and powerful whiskies. We, as a Lagavulin distributor, feel it is important to have a wide range of this whisky. Examples you can find in our assortment are:
Lagavulin 12 Y.O. Cask Strength
Lagavulin 11 Y.O. Offerman Edition Oak Cask
Lagavulin 25 Y.O.
Lagavulin Double Matured Distillers Edition
Lagavulin Islay Malt
But that's not all! To view the full product range of our Lagavulin wholesale, please visit our Sales Portal. In addition to many different flavors, we also offer multiple formats. Finding it hard to choose? Don't worry! We offer you the possibility to place a mixed order, allowing you to order per case for each flavor already.
Please note that we only sell to business customers.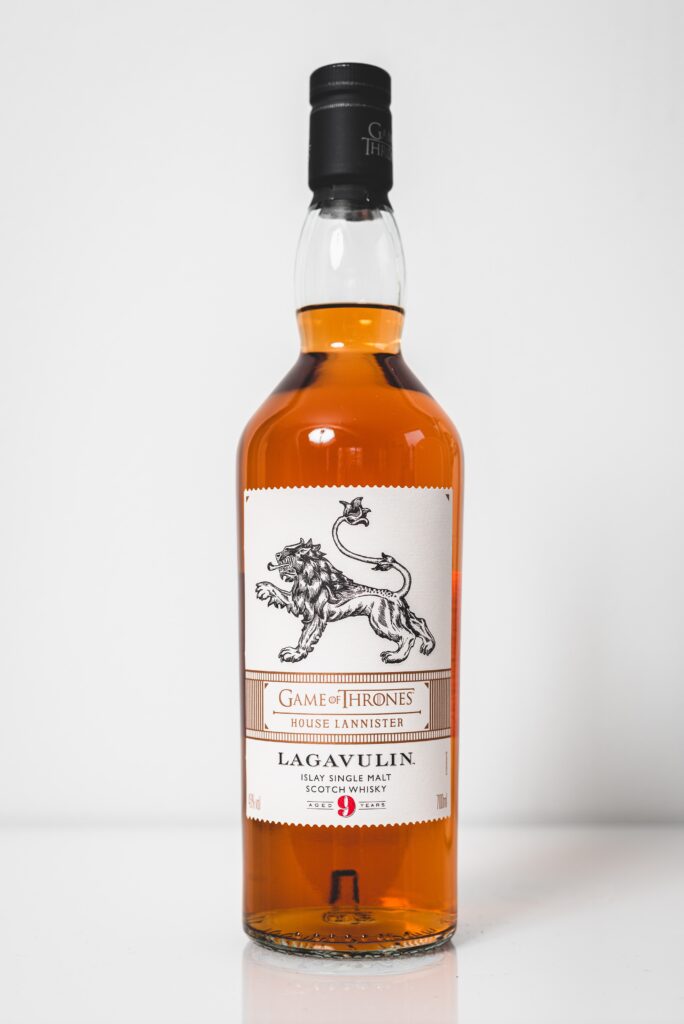 Order easily online from us as a Lagavulin supplier
Now that you are aware of our wide range of products, we would like to introduce you to our Sales Portal. This has been developed by our in-house ICT team. You have never experienced such convenience when ordering Lagavulin from a wholesaler for your liquor store. You can view our real-time stock 24/7 and within a few steps you have already put together a complete order.
Order whenever and wherever you want from us as a Lagavulin distributor! We understand that price is also of great importance to you. We regularly offer great deals to our portal users, of course you don't want to miss that! So are you looking for Lagavulin for wholesale prices? Then you have come to the right place. Don't wait any longer and create an account immediately to access our Sales Portal. How does it work? Check out the steps below!
1. Fill out the 'become a customer' form.
2. Your request will be checked by us.
3. If approved, you will be granted access to our Sales Portal and login details will be sent to you by email.
4. You can easily order when it suits you and you always have insight into current stocks and prices.
Moving Spirits, the online wholesaler of Lagavulin
The convenience you experience when ordering from our Lagavulin wholesale, you won't experience anywhere else. Whether we also offer more than just this smoky whiskey? Sure. You can also contact us for many other brands of whisky, such as Johnnie Walker, Glenmorangie or Laphroaig.
However, we sell more than just whiskies. 50+ brands of vodka, 60+ brands of rum or would you rather go for one of our 80 brands of gin? Discover our full assortment in our Sales Portal. Do you want to know more about us? Then read more about our whisky wholesale.
Do not hesitate any longer and create an account at our Lagavulin wholesale immediately.