Are you looking for Laphroaig whisky? You've come to the right place at our Laphroaig wholesale. With a wide choice of different flavors, there is always enough that meets your needs. As a Laphroaig supplier, we find it important that you can easily and quickly find what you are looking for, which is why we have developed our own Sales Portal. Here you can view our full stock 24/7.
We are a Laphroaig distributor that supplies business customers throughout Europe and beyond. In addition, we are 100% independent and can therefore always respond quickly to your requests.
Neighbors, hostilities and fine results, it's all part of Laphroaig's history
As a Laphroaig wholesale, we are always curious about the story behind our liquor brands. Questions arose as to where the name Laprhoaig (read more at Wikipedia) came from, it is Gaelic and means "The beautiful valley by the wide river."
The history of Laphroaig began all the way back in the early 19th century. In fact, the Laphroaig distillery was founded in 1815 by Donald and Alexander Johnston. The whiskey produced proved to be particularly good because the water source was very soft, peaty and free of minerals.
In the late 19th century, much of the malt was used to make blends. The smoky, peaty flavor of Laphroaig was much appreciated by whiskey blenders. Especially the neighbors in Lagavulin, which was owned by Mackie and Co, were very enthusiastic and therefore largely bought the production of Laphroaig, to match it with grain whiskey. In 1887, the family decided that blenders Mackie and Co were getting too much of a whiskey that was in high demand as a single malt and so their agreement was terminated. From this arose much hostility, Mackie and Co responded by accusing Laphroaig of acting illegally and took the distillery to court. When Mackie and Co lost this lawsuit, they decided to complicate the production of Laphroaig by diverting their main ingredient: the water.
In 1908, instead of going into battle, Peter Mackie decided to join the Laprhoaig distillery. He built an exact copy of the Laphroaig distillery, hoping to create another Laphroaig. Unfortunately, he never managed to achieve the same level of taste.
By 1923, Laphroaig's capacity had doubled and the maltings, as they stand today, were complete. When Ian Hunter took ownership of the distillery in 1921, he spread the Laphroaig gospel around the world. In the years that followed, Laphroaig won many awards.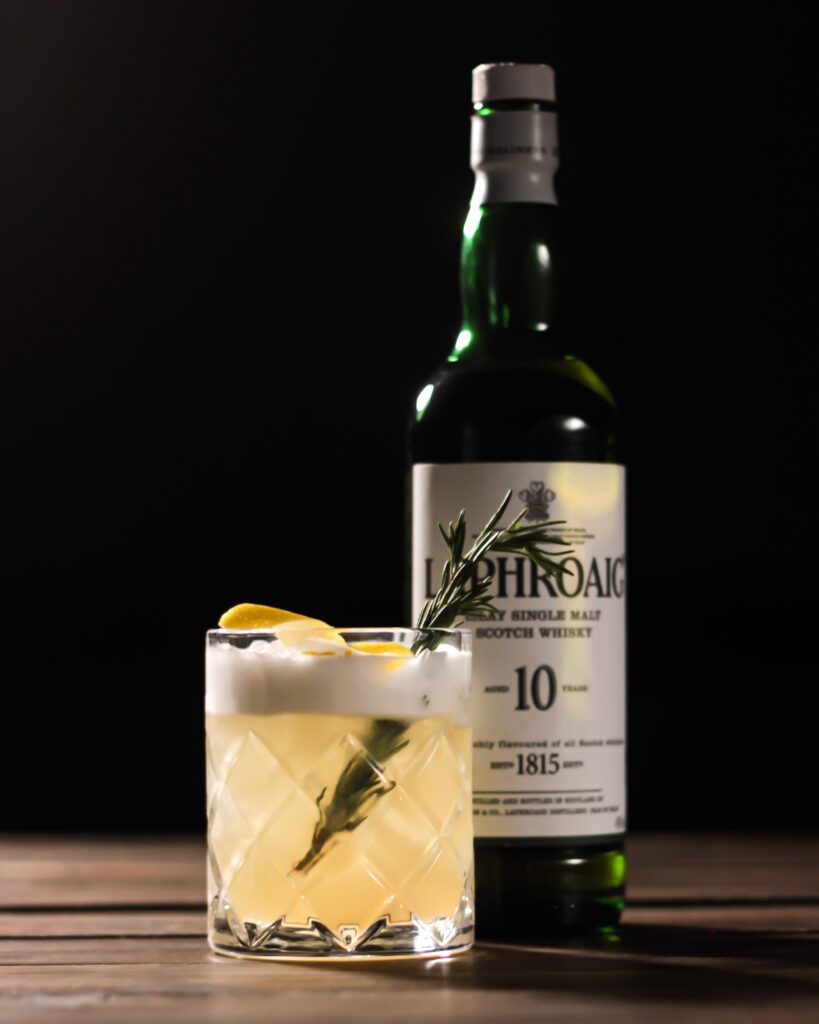 Laphroaig wholesale: a unique way of producing
Before you can purchase this whiskey from us as a Laphroaig supplier, an extensive production process precedes it. The water used in production is crucial. Not only does it serve as a cooling agent, but it also provides the flavor. It is used to mash the barley, it cools the "wort" in preparation for fermentation, and it is used to condense the vapors of the spirit back into liquid during the distillation process. The water comes from the Kilbride Reservoir.
The peat that is used is hand-cut. Islay is especially famous for its peated single malt whiskies, due to the fact that the peat bogs are different from those of mainland Scotland and a higher proportion of peat moss exists. They also malt their own barley.
The peat is then burned in peat ovens to give the barley the distillery's distinctive smoky, medicinal flavor. Unlike most distilleries, they turf before drying. The process of converting the sugar to alcohol takes place in stainless steel washbacks. Fermentation takes at least 55 hours, the sugar is not only converted into alcohol, but also many flavors are developed. Three larger wash stills and four smaller spirit stills are used in the distillation. Finally, maturation takes place in ex-bourbon barrels.
Laphroaig distributor with a wide choice of whiskies
You can easily and quickly buy Laphroaig whiskey for your liquor store online in our Sales Portal. With an adventurous character and a smoky, yet powerful taste, it cannot be missing from the shelves of your liquor store. As a Laphroaig supplier, we offer you a wide choice of different flavours.Discover the full product range in our Sales Portal, but just to give you an example of what you might find at our wholesale:
Laphroaig 10 years old
Laphroaig Lore
Laphroaig PX Cask
Laphroaig Quarter Cask
Laphroaig Select
Are you looking for multiple flavors or different sizes? Then you've come to the right place. You can always put together mixed orders with us. This means you never have to choose again and you can always try all flavors! Of course we are always competitively priced.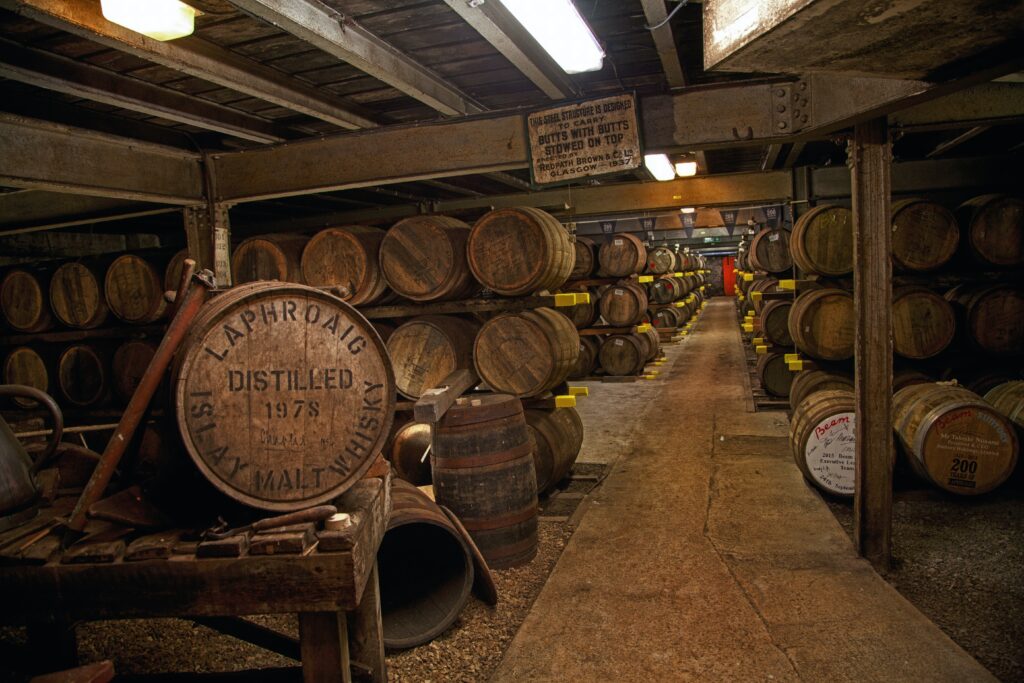 Buying whiskey online has never been easier than with us as your Laphroaig supplier
Whether you're just looking for a distributor of Laphroaig or looking for more whiskies, you can find it all easily and quickly in our Sales Portal. The convenience you know from major retailers, nothing less you can expect from us! You can view our real-time stock 24/7, so you never miss out on alcohol.
All important product specifications are shown, such as customs status, best before date, features and much more! We also always show all prices instantly. So are you looking for Laphroaig at wholesale prices? Always keep an eye on our 'special offers' page, which regularly contains great offers especially for our portal users.
You can put together an order whenever and wherever you want.
Are you excited and want to get started right away? Create an account and discover all the advantages for yourself. We will check your application, after which you will have access to our Sales Portal forever:
1. Fill out the 'become a customer' form.
2. Your request will be checked by us.
3. If approved, you will be granted access to our Sales Portal and login details will be sent to you by email.
4. You can easily order when it suits you and you always have insight into current stocks and prices.
Moving Spirits, the online wholesaler of Laphroaig
If you would like to order Laphroaig for your liquor store, Moving Spirits is the online Laphroaig wholesale for you! But that's not all we do. You can also contact us for many other brands of whisky, such as Johnnie Walker, Glenmorangie or Glenfiddich.
We also offer other types of spirits, such as vodka, gin or rum. You can view and order all this in our Sales Portal. Do you want to know more about us? Then read more about our whisky wholesale. We hope to be able to help you put together an order soon!
Do not hesitate any longer and create an account at our Laphroaig wholesale immediately.