Are you looking for a Captain Morgan wholesale where you can do the shopping for your liquor store? Then look no further! With a wide selection of different flavors and formats, you've always come to the right place at Moving Spirits.
As a Captain Morgan distributor, we think it's important that the purchasing process is as easy as possible for you. That is why we have developed our own Sales Portal, where you can view our entire inventory 24/7. In our Portal, real-time prices will be shown when purchasing captain morgan spiced rums. We are always competitively priced!
Moving Spirits is the online Captain Morgan supplier that delivers within Europe and even beyond.
A tropical rum originating from Curaçao
As a Captain Morgan wholesale, we are interested in the story behind our brands.
The first question that started to itch with us. Who is Captain Morgan (read more at Wikipedia)? Captain Morgan, a beloved man of Wales, was actually named Sir Henry Morgan. In 1655, he became a soldier and later a sailor. He sailed to the Caribbean to protect British colonial interests as ordered by the government.
Hundreds of years ago, locals in the Caribbean began pressing the sweet juices from sugarcane. Rum was created as the juice was fermented and distilled. The real Captain Morgan lived in the 17th century, but the brand, on the other hand, is not that old at all. A company called Seagram's launched the spiced rum called Captain Morgan Spiced Rum in 1943.
It wasn't until 2001 that Seagram decided to retire from the liquor industry. They sold Captain Morgan to Diageo, which still owns the brand.

Captain Morgan wholesale: exceptionally rich flavor
Captain Morgan rum is distilled from sugar cane. The characteristic drink with a smooth, exceptionally rich flavor comes from a combination of yeast used for aging conditions and blending with a specific fermentation distillation method. It is based on a special and secret blend of Caribbean rums.
The ingredients used in the production process are molasses, water puree and yeast. It is distilled in a continuous still. Its natural flavor and beautiful amber color come from aging in charred oak barrels.
After distillation, maturation of about a year takes place. Finally, more flavor is added by a proprietary recipe, which is mixed only in the final stage of production. The spices used are sourced from the Caribbean Islands.
A wide assortment as your Captain Morgan supplier
Over the years, more and more flavors have been launched by Captain Morgan. The latest addition to the wide assortment is the Captain Morgan Sliced Apple Spiced Rum. As a Captain Morgan distributor, it is sometimes hard to keep up, yet we always like to stay up-to-date. So you can find all the different flavors in our Sales Portal, for example:
Captain Morgan Black Spiced
Captain Morgan Cherry Vanilla Twist
Captain Morgan Sliced Apple Spiced Rum
Captain Morgan Tiki Mango & Pineapple
Captain Morgan White
Captain Morgan Spiced Sherry Oak
In addition, there are many more different flavors. Take a look at our Sales Portal and be surprised by our extensive assortment. Would you rather buy several different brands? You have come to the right place at Moving Spirits. We are not only a Captain Morgan wholesale, we always have more than 60 different brands of rum in stock.
Moving Spirits is a Captain Morgan supplier that delivers throughout Europe and beyond.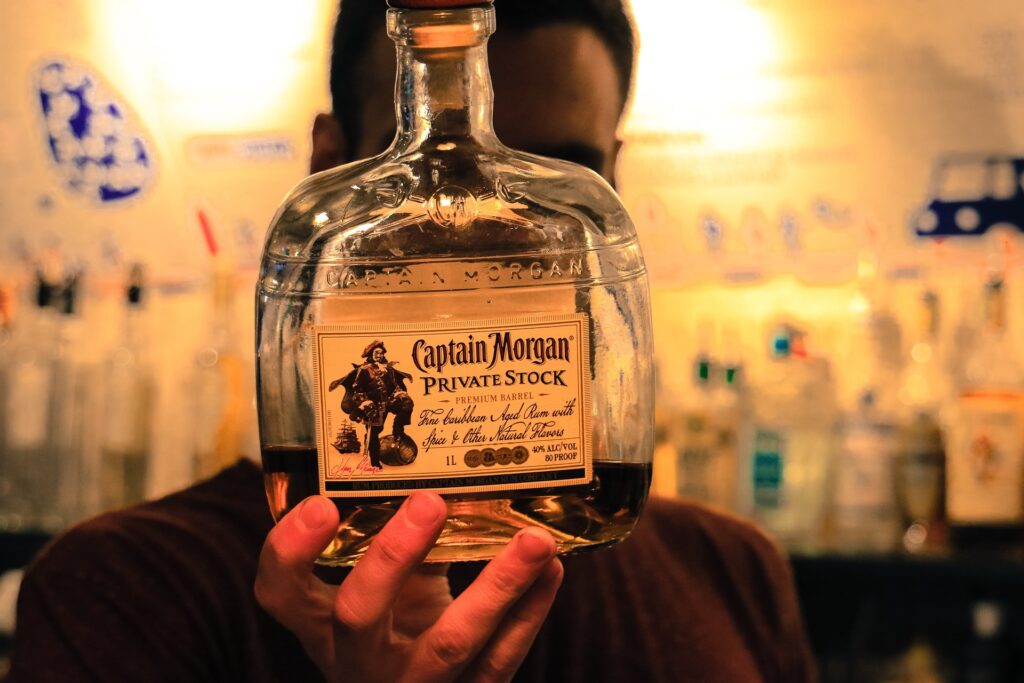 Purchase Captain Morgan for wholesale prices in our Sales Portal!
Yes, you read that right! We are always competitively priced. So buy Captain Morgan now for wholesale prices at Moving Spirits. In our Sales Portal you always get to see the prices right away. We don't like unexpected surprises, so the price you see is the price you pay.
You can easily put together your own order. Our entire stock is available 24/7. This includes current photos, so you can always be sure what you're getting. Click 'finalize order' and then it's up to us! As Captain Morgan distributor we will arrange the transport, so you can sit back and relax or start putting together your next order!

As a portal user, you regularly get great deals. In addition, there are many other benefits, but we prefer that you discover them for yourself. Create your account in just a few steps and order wherever and whenever you want in our easy-to-use Sales Portal:
1. Fill out the 'become a customer' form.
2. Your request will be checked by us.
3. If approved, you will be granted access to our Sales Portal and login details will be sent to you by email.
4. You can easily order when it suits you and you always have insight into our current stock and prices.
Much more than just Captain Morgan rum
You can not only buy Captain Morgan Spiced Rum at low prices, also other delicious rum brands can be found at our wholesale. Are you looking for a flavorful white rum like Malibu or do you prefer Bacardi or Havana Club? Discover our full assortment in our Sales Portal. 
Due to our wide selection, there is always something that suits your needs. In addition to rum, we also offer other types of spirits such as whiskey and vodka. Are you not done reading and want more information? Then read on about our rum wholesale.
Do not hesitate and register for our Sales Portal now! Fill your shelves now by purchasing from our Captain Morgan wholesale.