Are you currently looking for Martell at wholesale prices? Moving Spirits is a 100% independent wholesaler with the widest range of spirits, such as Martell's Brandy. Our premium drinks are available to our customers at any time. Gain 24/7 access to our stock with the use of our Sales Portal. Are you interested in purchasing competitively priced Martell? Do you want 24/7 access to our Sales Portal and get your order delivered wherever you are in the world? Register now to gain access to thousands of premium spirits. Place your order and we, as a Martell wholesaler, will ship your order within 48 hours.
History behind Martell Brandy
As an official Martell wholesaler, we value the identity and history behind the brands we distribute to our customers. Please join us for a journey back in time.
The story of this unique drink started in 1715. Jean Martell, a salesman from Jersey started his own cognac trading business in Charante. Jean used a special kind of grapes that are solely found in the Borderie region. For his casks, Jean used a troncais oak. The combination of the two resulted in a unique, smooth flavour.
After Jean's death in 1753, the business was continued as usual by his two sons and widow. Although this brandy's flavours stayed the same, the main focus of the business shifted to export. During this time, brandy was mostly consumed in France. This shift in strategy paid off, making this brand the most consumed brandy in England in 1812.
The cognac market was largely dominated by the so called 'big four'. The big four are four large cognac houses, who together produce the majority of cognacs in the world. The other three of the largest cognac houses are: Rémy Martin, Courvoisier and Hennessy.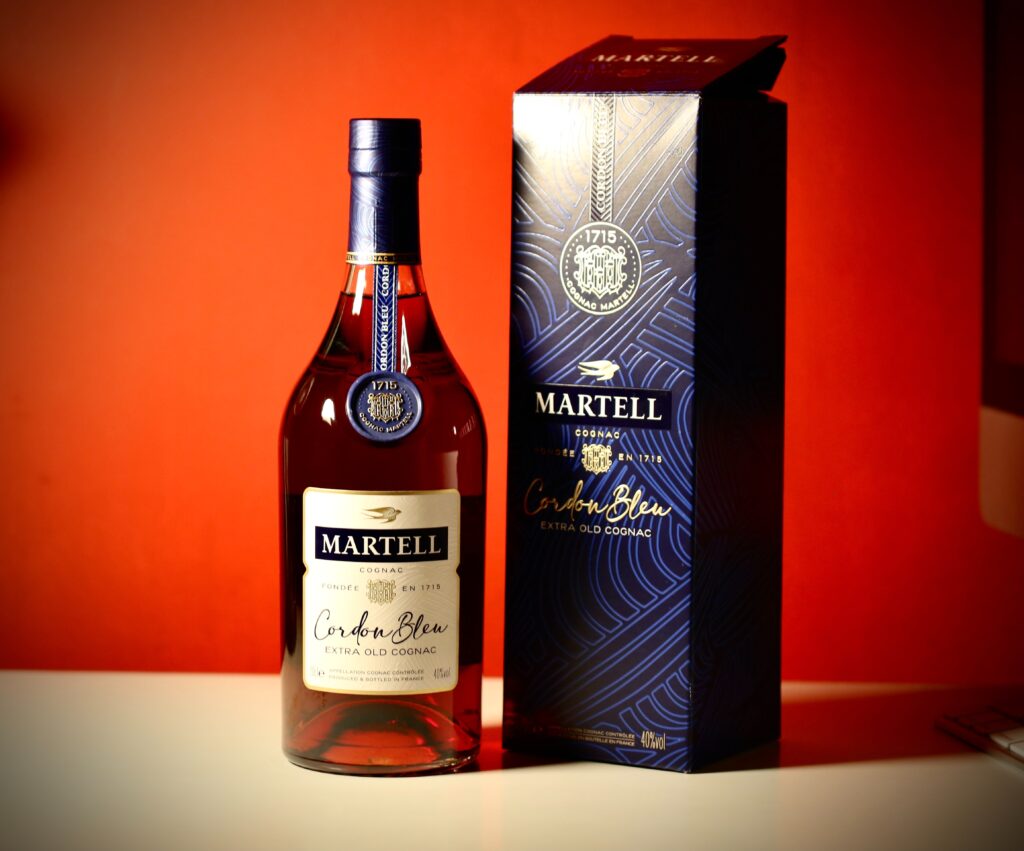 Over the years, the brand experimented with different types of brandy. At the beginning of the 20th century, aging spirits for several years was mostly done on a small scale. This was because aging spirits was a costly and time-consuming process. This changed with the introduction of Cordon Blue in 1912. This drink is still described as "the first mass-marketed premium brandy".Did you know that in 2015, Martell produced over 14 million bottles of cognac in a year, making it the second largest producer of cognac? The largest producer of cognac is currently Hennessy.
Different types of Martell brandy
At Moving Spirits, we offer a variety of different Martell cognacs to our customers at wholesale prices. These cognacs vary slightly from each other in terms of age and taste. To learn more about the different age indications, visit our special cognac page.
When it comes to different varieties of this brand, our inventory consists of:
Martell VSOP;
Martell XO;
Martell VS;
Martell Cordon Blue.
Do you want to stock the shelves of your business with cognac and other spirits, wherever you are located in the world? Register to our Sales Portal to gain access to Martell and other cognacs for wholesale prices!
Use our sales portal to order Martell
As a Martell wholesaler, our aim is to provide our customers with the highest quality products and the best possible service. To achieve this, we firstly price our products competitively, guaranteeing you the best price for your order.
Secondly, by having insight in our real-time stock, our customers can see how our current stock levels are. You are therefore never faced with unpleasant surprises regarding shortages or prices from our side.
Register yourself as a customer and profit from the many benefits of our Sales Portal. How?
Fill out the 'become a customer' form.
Your request will be checked by us.
If approved, you will be granted access to our Sales Portal and login details will be sent to you by email.
You can easily order when it suits you and you always have insight into our current stock and prices.
More than just a Martell cognac wholesale
At Moving Spirits, we are much more than just a Martell cognac wholesaler. Our stock consists of 2000+ brands that are available at just a press of a button. Are you looking for vodka? We have over 50+ brands that can be shipped to your doorstep.
As a Martell wholesaler, our goal is to offer you the widest selection of spirits. Don't wait and order Martell through our Sales Portal.